THEME THIS IS AFRICAN ART
DATE SATURDAY, 10 SEPTEMBER 2016
VENUE THEATRE ON THE SQUARE
TIME 10:00 - 14:30
COST R500
Can business change the world? Can the world change business? For a new breed of social entrepreneurs, striving to build and grow enterprises that fight social ills, foster opportunity, and help to improve society, the answer is not can, it's must. impassioned by purpose, driven by dreams, emboldened by ideals, social entrepreneurs imagine a better way to a better world. And then they go out of their way to bring it to life. In the process, they shake the dust off old ways of thinking and disrupt the way business has always been done. Through tales of daring, struggle, triumph and innovation, you'll learn their secrets as they been business principles with social change. From healthcare to mobile gaming, from education to recycling, from dancing to gardening, these are the game-changers, the difference-makers, the doers of good.
THEME ART FOR AFRICA
DATE SATURDAY, 10 SEPTEMBER 2016
VENUE Theatre on the Square
TIME 10:00 - 14:30
COST R400
Africa is a creative power station. Art from our continent empowers us to reflect on shared experiences and unites us in our diversity. With anchors in our collective African identity, our contemporary artists consider the human and universal. Platforms that represent the multiplicity and diversity of contemporary African art and cultural production are critical. New modes of thinking about art have also led to a transformation of the work we do, the things we make, and the lives we live. Culture is being formed in artist studios, on the street and online. Digital innovation and increased connectivity have given creative work greater reach and influence, transcending traditional boundaries of geography and language. Our TEDxJohannesburg Salon event asks three simple questions: How is art changing us? How is art changing our world? And most pertinently, how might those changes help to shape Africa's future? See the speaker lineup below.
TEDxJohannesburg Salon, Art for Africa, is organised in collaboration with our partners at Ogojiii and FNB JoburgArtFair. Your TEDxJohannesburg ticket gets you a free pass into the Fair, on Saturday 10 September only.
Places are limited. Get your ticket now.
This is a mockup. Publish to view how it will appear live.
09:00 - 10:00 REGISTRATION
10:00 - 11:30 SESSION 1
ASHRAF JAMAL
Cultrural Analyst and Author (South Africa)
Ashraf is based in the Faculty of Design and Informatics at the Cape Peninsula University of Technology. Trained at the Universities of Sussex (UK), New Brunswick (Canada), Wisconsin-Milwaukee (USA), KwaZulu-Natal (RSA), he has taught in the fields of world literature, post-coloniality, media studies, and visual culture at various universities—in South Africa, in Malaysia and in Northern Cyprus. Ashraf has authored fiction, has penned plays, and has written prolifically on South African art.
Web: goodreads.com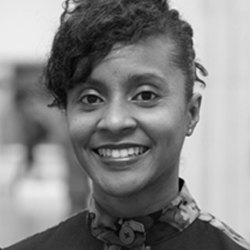 ZOE WHITLEY
Research Curator, Tate Modern (UK)
Raised between Los Angels and Washington, USA, Zoe currently works and lives in London, UK. She holds a post at Tate Modern as Research Curator, having held dual roles of Curator, Contemporary British Art at Tate Britain and Curator, International Art at Tate Modern. Zoe is credited with having co-written Tate's revised Africa acquisitions strategy and has done extensive research on contemporary artists and art practices from the African continent and the African diaspora.
Web: zoewhitley.com
JIM CHUCHU
Artist, Filmmaker and Member of The Nest Collective (Kenya)
Jim is a multi-disciplinary artist living and working in Nairobi, Kenya. His range of work includes films, photography and music. He is also co-founder and member of the Nest Collective – a multidisciplinary art space in Nairobi. He first came to attention as a member of Kenyan music group Just A Band and subsequently as director of Kenyan LGBT film Stories of Our Lives, which was banned in Kenya. Other notable projects include the short film Homecoming, and a photography series titled Pagans.
Twitter: @jimchuchu | Web: jimchuchu.com
LERATO SHADI
Visual and Performance Artist (South Africa)
Lerato lives and works in Berlin. Since completing a BFA in Fine Art at the University of Johannesburg in 2006, her work has been featured widely here in South Africa and elsewhere in the world. She is currently completing her MFA at the Kunsthochschule Berlin Weissensee. Lerato is a 2016 University of Johannesburg Alumni Dignitas Award recipient. Her work explores assumptions about the Black female body, and how multimedia performance creates space to make the body both visible and invisible.
Twitter: @lerato_shadi | Web: lerato-shadi.net
WILLIAM KENTRIDGE
Internationally Acclaimed Visual Artist (South Africa)
William's practice is born out of a cross-fertilisation between mediums and genres. His work responds to the legacies of colonialism and apartheid, within the context of South Africa's socio-political landscape. His aesthetics are drawn from film's own history, from stop-motion animation to early special effects. The dynamism of an erased and redrawn mark in his drawing is an integral part of his expanded practice. In autumn 2016, William presents recent work at Whitechapel Gallery, London.
Twitter: @kentridge_art | Web: goodman-gallery.com
AIDA MULUNEH
FNB JoburgArtFair Featured Artist (Ethiopia), in Conversation with Arts Writer and Academic Neelika Jayawardane (USA)
Born in Ethiopia, Aida left the country at a young age and spent her childhood living in various territories before her family finally settled in Canada. After graduating from Howard University with a major in Film, she worked as a photojournalist at the Washington Post. Her work has been acquired by the permanent collection of the Smithsonian Institute, National Museum of African Art. Currently attached to Addis Ababa University, she also curates the photography festival Addis Foto Fest.
Twitter: @aidamuluneh | Web: davidkrutprojects.com
11:30 - 12:00 TEA & COFFEE
12:00 - 13:30 SESSION 2
NEELIKA JAYAWARDANE
Academic, Arts Writer, Editor at Africa is a Country (USA)
Neelika is associate professor of English at the State University of New York-Oswego, and an Honorary Research Associate at the Centre for Indian Studies in Africa (CISA), University of the Witwatersrand (South Africa). She is Arts and Culture Editor at Africa is a Country, a web magazine focusing on African political and cultural affairs. Neelika was born in Sri Lanka, grew up in the Copperbelt Province in Zambia, and completed her university education in the United States.
Twitter: @sugarintheplum | Web: oswego.academia.org
COBI LABUSCAGNE
Founding Director, Artlogic (South Africa)
Cobi is co-founder of the FNB Joburg Art Fair and has been with Artlogic for ten years. In that time, she has fulfilled various leadership roles. She completed her doctoral studies at the Wits Institute of Social and Economic Research, a MAFA at the University of the Witwatersrand, and a BAFA at Michaelis School of Art at the University of Cape Town. Cobi has published in the field of cultural studies and holds a research association at the Gordon Institute of Business Science.
Web: artlogic.co.za
BUHLEBEZWE SIWANI
Performance Artist and Member of iQhiya Arts Collective (South Africa)
Buhlebezwe has had a nomadic upbringing—having lived in the Eastern Cape and KwaZulu Natal provinces, she was raised in Johannesburg, and currently lives and works in Cape Town. She completed her BAFA (Hons) at the University of the Witwatersrand, and her MFA at the Michaelis School of Fine Arts, at the University of Cape Town. She works predominantly in the medium of performance and installations, and is at present in a residency in Zurich on a three-month Pro Helvetia programme.
Twitter: @bsiwani | Web: buhlebezwesiwani.com
MANTHE RIBANE
Performance Artist and Artist (South Africa)
Working in film, music and dance, Manthe has collaborated with South Africa's most celebrated talent. These include Mafikizolo, Toya Delazy, Spoek Mathambo, Okmalumkoolkat and Die Antwoord. She is widely credited as a catalyst in seminal South African contemporary creative movements; from the fashion-meets-conceptual-art squadron, The Smarteez, to the dance-meets-performance-art group V.I.N.T.A.G.E. Her latest initiative, Dear Ribane, is a collaboration with Tegebo and Kay Kay, her siblings.
Twitter: @ribane_manthe | Web: youtube.com
KOSSI AGUESSY
Industrial Designer and Artist (Togo/UK/USA/France)
Born in Lomé, Togo, Kossi studied industrial and interior design at the Central Saint Martins College of Arts and Design in London, UK. He lives and works in the UK, the USA and France. He became the first designer of African descent to have a nominative section in the Beaubourg Museum collection when his works found a permanent home there in 2013. Futuristic, multi-cultural and polymorphic, Kossi's signature results from practical, technological, sociological and formal explorations.
Twitter: @KossiAguessy | Web: kossiaguessy.biz
PAMELA JOYNER
Arts Patron, the Joyner/Giuffrida Collection of Abstract Art (USA)
Together with husband Fred Giuffrida, Pamela has amassed what is arguably the world's leading collection of fine art by African and African Diasporan artists. Hundreds of works, spanning four generations, hang in their residences in San Francisco, Sonoma and New York. A former money manager and founding partner of Avid Partners LLC, a strategic marketing consulting firm, she holds a B.A from Dartmouth College, an M.B.A. from Harvard University and an MA Honorary Degree from Dartmouth College.
13:30 - 14:30 DRINKS | fnb joburgartfair